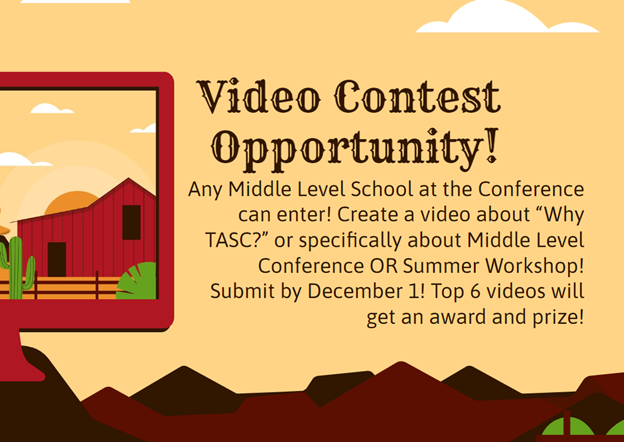 ---
2022 TASC Middle-Level Annual Conference
November 11-12, 2022 | Embassy Suites
San Marcos Hotel & Conference Center
1001 E. McCarty Lane, San Marcos TX 78666
Early Registration - $80 per person (Advisors & Students) Now until October 20, 2022 October 26, 2022
Late Registration - $85 per person (Advisors & Students) 
Registration does NOT include hotel stay, transportation, or meals.
Hotel reservations must be made separately. Embassy Suites, San Marcos.
*Save on your hotel stay by booking early and online link below:

---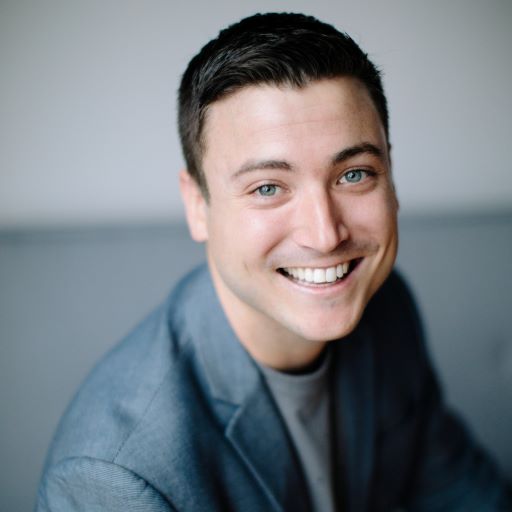 Keynote Speaker: Kyle Willkom is a keynote speaker, author, and entrepreneur. He is the Founder of Action Packed Leadership, LLC – a leadership development company focused on helping young people become the best versions of themselves. His most recent book, Action Packed Leadership - Empowering High School Students to Think Positive, Take Action, and Create Change, was a number 1 best seller on Amazon and is used in leadership classes around the country. Through Kyle's speaking, books, and online resources, he has reached hundreds of thousands of young people with messages of kindness, positivity, and action. In his free time, Kyle enjoys going on outdoor adventures with his wife, Danielle, being a dad to his daughter, Jovie, eating pizza, and watching Milwaukee Bucks basketball games. 
Take a leadership team to the Middle-Level Annual Conference!
Give your school the leadership edge while building a positive school climate and culture.
• Enjoy a motivational general session presented by a nationally recognized speaker
• Learn in breakouts and discussion groups led by outstanding leaders and advisors from across Texas
• Join 1,000 middle level leaders, network with other student council and NJHS advisors
• Learn about opportunities for community service and gain leadership resources
• Walk away with ideas for a successful year
• Participate in a Service Project
• See a large screen movie experience
• Experience a taste of Summer Leadership Workshops
• There is still time for recognition! Submit your application for Top Video or Top Project by October!
Lead a Breakout Session » 
Breakouts at the ML Conference are 20 minute presentations to small groups (approximately 30 participants) scheduled for the second day of the conference. Exhibitors, Endorsed Programs, middle level schools, and high schools are invited to present. An advisor should be in the room with middle level presenters. Your topics may be relevant to either honor society, student council, or general student leadership. Active participation is encouraged, and dependence on AV such as video, PowerPoint, etc. is discouraged. Internet is not provided. 
Schedule

Friday, November 11, 2022
4:00 pm - 7:30 pm Registration / TASC Bookstore / Exhibits / Activities
6:25 pm - 7:05 pm (Mandatory) Advisors' Meeting
7:30 pm - 9:00 pm Opening General Session with Kyle Willkom
9:20 pm - 11:10 pm Evening Choice Sessions

Saturday, November 12, 2022
8:00 am - 2:30 pm  Registration / TASC Bookstore / Exhibits
9:00 am - 9:30 am  Second General Session Training
9:45 am - 11:05 am 3 Breakout Sessions/Advisor Meetings
11:05 am - 12:30 pm Lunch (on your own)
12:40 pm - 2:20 pm 2 Concurrent Sessions/Advisor Meetings
2:30 pm - 4:00 pm Final General Session with Motivational Media
TASC Board of Directors Registration and Cancellation Policy:
Early Bird Registration: Those registering by midnight on the day Early Bird Registration Closes have a discounted registration fee. 

Cancellation Policy:  Cancellations may be made until Early Bird Registration closes. Requests for refunds or cancellations must be submitted via email only

. No cancellations will be allowed, and no refunds will be made after that date. Schools not canceling by the Early Bird Deadline or submitting registrations after the Early Bird Deadline will be billed the full amount for all persons registered including no-shows.

Should TASC have to cancel the entire workshop for matters beyond our control, refunds will be given to all those registered.