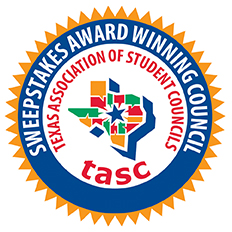 The following schools have been reported as Award-Winning Schools by their TASC District President School. If there are errors, notify your District President School. Changes can only be made to this list following an email message from the District President explaining necessary changes.
Texas Association of Secondary School Principals
announces the call for applicants for the position of

State Program Director for the
Texas Association of Student Councils

Click on the link below to see the job description and instructions for interested individuals.
JOIN, RENEW, UPDATE MEMBERSHIP
When your council gains the support and opportunities offered by TASC, there is no limit to what you all can achieve. To join as a new council, renew your previous council membership, add a new advisor, or change advisor information, please click START button.

 Check out this Texas High School Why TASC video
---
MEMBERS: Be sure to log-in

so that you have access to all the member pages!
---
Have questions?
---